This is what to do if you have an unwanted auto-renewal.
Many customers rely on our services extensively and post recurring jobs that extend month to month. This is done because they are either looking for more than one candidate for a specific role or didn't find the right candidate within that first month.
For these reasons, we introduced auto-renew.
Auto-renewal is stated in the checkout before you pay, in your confirmation mail, and in the mails we send you before the auto-renewal will happen. You can turn off auto-renewal whenever you want.
It allows companies to maintain active job posts without having to recreate one every month. While this makes things easier for companies with multiple positions to fill, companies that only require a one-off post can forget to turn this feature off causing billing to reoccur for an additional month.
If your job has auto-renewed by accident:
1. Remove your job listing to stop getting candidates
Go to your listing settings and click on Remove. You can find the Listing Settings in your Company Dashboard if you have a company account or in your Company Profile if you have a guest account.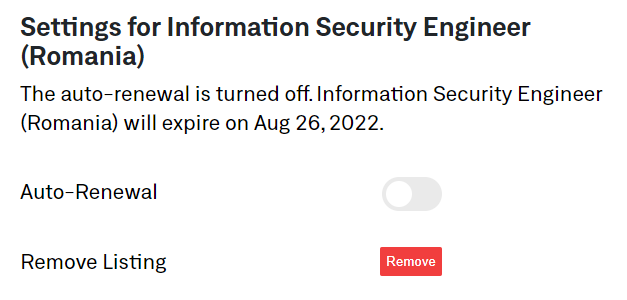 2. Reach out to us in case you want a refund for your accidental auto-renewal
If your job listing has only been live for a few days after the auto-renewal, we can give you a refund for the payment you made. If that's the case, send us a mail and we'll take it from there.