With the rise of remote jobs and the gig economy, finding opportunities to work from anywhere has never been easier. 🥳 The problem? There are more scam jobs and fake listings than ever.
With the rise of remote jobs and the gig economy, finding opportunities to work from anywhere has never been easier. 🥳
Bad news? There are even more scam jobs and fake listings to lure victims into online traps. Scammers running fake job offer schemes may steal your identity, money, or hard work (if they disappear without paying you).
So how do you know if a remote job listing is legit?
✅ Use this 5-step checklist before you apply:
1. The job listing matches industry standards.
Remote companies use job listings to attract their ideal candidates, providing as much information about their organization and the role as possible.
Legit job listings include:
A real job title
A salary range in line with industry averages
Daily tasks one must complete
Required education or experience
Personality traits or must-have skills
A definite remote work style (i.e., hybrid vs. 100% remote)
Mentions of the employee benefits package, time off policy, equal opportunity hiring, etc.
Information about the organization's history, mission, values, and company culture
Contact details, including a physical address and professional email address tied to the company
Here's an example of a legit job listing on We Work Remotely: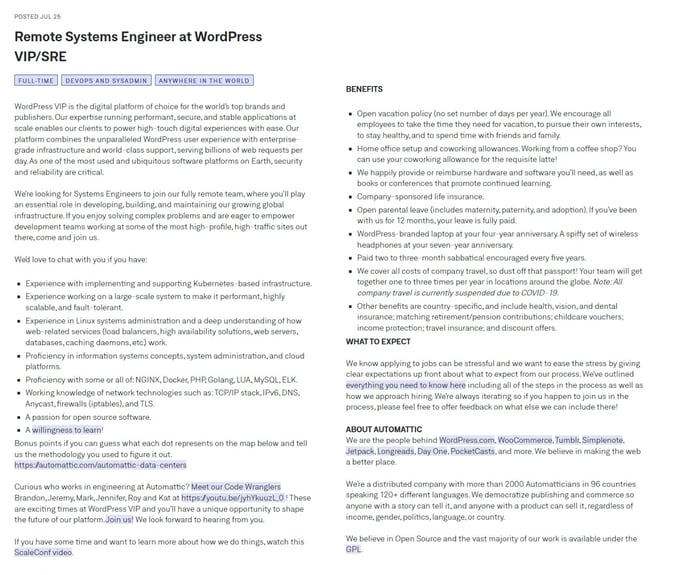 Notice all the information the company shared? Consider this your benchmark to compare with other listings.
2. The job listing uses professional language.
Professional remote companies create well-written job descriptions and job ads. There should be zero or very few mistakes in:
Spelling
Grammar
Punctuation
Capitalization
Verb tense
Look for job listings that also show off the company's sense of personality, brand voice, and tone.
3. The company has a verifiable online presence.
Research the company's name online. You should come across a professional website that contains its:
History and mission statement
Contact information, including a physical address and phone number
Case studies and client testimonials
Recent news stories and press releases
Look for verified social media accounts as well. They should have professionally-written posts and photos with a cohesive aesthetic across platforms. Posts should be related to the company's mission, industry, products, or service.
Check professional sites for other employees and reviews. Scope out current and former employees on sites like LinkedIn and read reviews on sites like Glassdoor.
4. You receive a reply from a professional email address.
Many companies send applicants an automated email to let them know their application is under review. Sometimes applicants will receive an email from the hiring team or hiring manager.
These emails should come from the company, not a personal email account (i.e., hiring@company.com versus head.honcho@gmail.com).
Emails should also contain a signature at the bottom with the organization's physical address, phone number, and website.
5. The remote job listing is on WeWorkRemotely.
We Work Remotely is the largest remote work community in the world. Our remote job board is the number one destination to find and list legit WFH jobs.
If you sign up for notifications and bookmark our job board, you won't have to use other sites full of potential scams ever again.
🚨 Warning Signs a Job Listing is Fake 🚨
These are the biggest red flags that a job listing may be a scam:
Vague job listings with short or nonexistent job descriptions.
Poorly-written job listings full of spelling, grammar, and punctuation mistakes.
Job descriptions with get-rich-quick schemes (example: Make $5k this week!).
Unsolicited job offers. Someone offers you a job opportunity despite never speaking to you before.
Ghost companies. You've never heard of the company and can't find anything about them online.
Unprofessional social media channels. The company's online posts and photos are not work- or even industry-related. Their followers also seem like fake accounts.
Personal accounts used for email correspondence.
You must provide confidential information upfront, such as your social security number or driver's license number.
You must pay for something like a background check, credit report, professional resume review, software, a "starter kit," or training materials/online courses.
You have to provide your direct deposit or banking information. Scammers will steal this info and disappear.
💡Read next: Work At Home Jobs: How To Tell a Legitimate Remote Job From a Scam