Creating a WWR employer account allows you to manage all your remote job listings and employer details in one organized dashboard.
Creating an employer account takes less than a minute. Here's how it works:
1. Click "Create Employer Account" from the homepage 🌟
Head to WeWorkRemotely.com. Look for the "Employers" drop-down menu in the navigation bar. At the bottom of the drop-down, you'll see "Create Employer Account."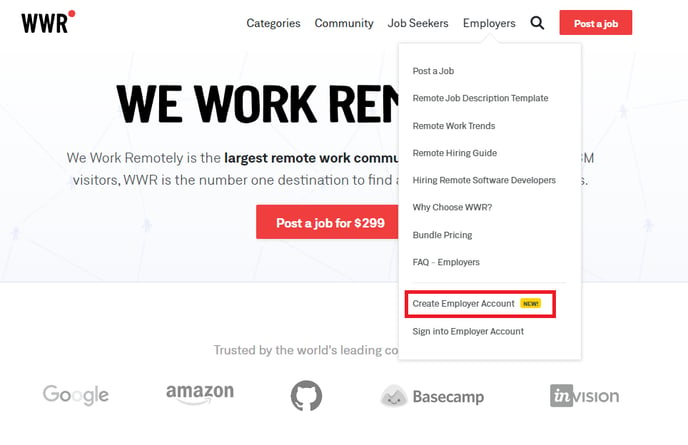 Click this link, and you'll be taken to a new screen to create your company account: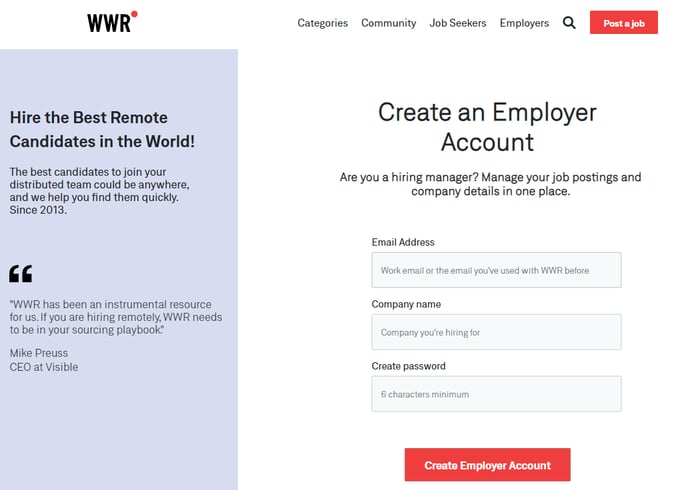 2. Fill in two details and create a password 🔐
Enter your email address. This should be your work email or the email you've used with WWR before. You can still create a company account if you've posted a job as a guest in the past.
Add your company name (or the company you're hiring for). If you've used WWR before, you'll start to see your company name auto-populate in the field as you begin typing.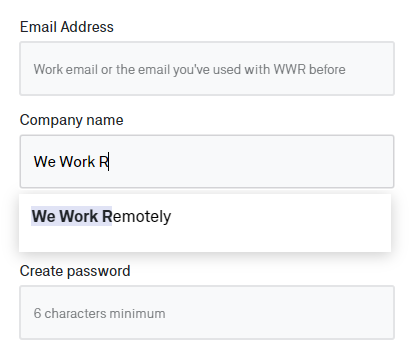 Select your company name if it's displayed. It's important to keep the same company name for your employer account.
Create a secure password. You'll need a minimum of 6 characters here.
3. Click the red button and verify your email address 🎉
Click the red "Create Employer Account" button to finish creating your account and send us your info.
Verify your email address for security purposes. You'll receive an email from We Work Remotely as soon as you create your employer account. The subject line will read "Please Verify Your Account on WWR."
Click the "Verify my account" link in the email. If your account is successfully verified (woo!), you'll be taken to your WWR company dashboard.
Welcome aboard! 👋
We're so glad to have you join our incredible remote work community.
Now that you're logged into your employer account, take a look around. Here's where you'll be able to:
Manage Your Listings
Post a Job
Edit Your Company Profile
Update Your Account Settings
Manage Billing
Contact Support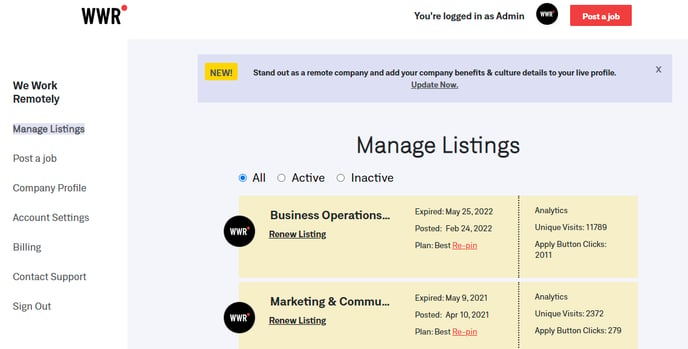 We hope you have fun exploring your new We Work Remotely company dashboard and building your dream team. 🦄