Add regional tags to your job listings to get the candidates you can hire.
When creating your job listing on WWR, you'll come across the question: Is This Role Open Worldwide?
Selecting "Yes" means your future hire can work anywhere in the world without any location or time zone restrictions.
But what if your company does have regional hiring restrictions? Or prefers to have everyone on the team working in the same time zones? No problem!
Select "No" here. Then you'll see two new filters for your listing open up:
1. Region(s) 🌎
Use the drop-down menu to choose where you want to hire your ideal candidate. Your options include:
USA only
North America only
Latin America only
Americas only
Europe only
UK only
Canada only
EMEA only
Asia only
Africa only
Oceania only
Other (don't specify)
Select one or more regions from the list. You can add as many regions as you like.

All your chosen regional tags will be highlighted below the drop-down menu. If you accidentally select one region and want to delete it, just click the "X" on the right.
After you choose a region, you'll need to select one or more time zones.
2. Time Zone (if applicable) 🕑
In what time zone do you want to hire your ideal candidate?
When you choose a Region, all the time zones in that area will be automatically selected. This means job seekers in those time zones can apply for your role.
You'll see these highlighted time zones below the drop-down menu.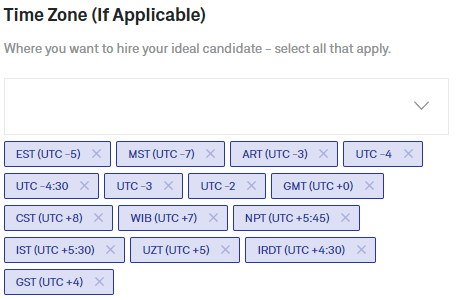 Use the drop-down menu to add additional time zones to your job listing (select all that apply!). If you want to exclude candidates from a specific time zone, just click the "X" on the right to delete it from your listing.
✅ Now your regional restrictions are all set!
You should see your selected Region(s) and Time Zone(s) highlighted side-by-side. Make any adjustments as needed. You'll also have a chance to double-check these choices when you preview your job listing later.

💡It's super important for companies to tag their roles with the correct regions and time zones. This step saves you from being inundated with applicants who aren't the right fit.
More importantly, it keeps your brand reputation high with job seekers. We receive emails all the time from candidates who apply for incorrectly tagged roles, and they're never happy after that type of letdown.