Job Bundles are the best way to save money while posting consistently. This is how to get one.
You'll find all the information about bundles on our page.
2. Choose the number of job listings you want to get.
You can choose between a 36, 72, 120, and 180+ Job Bundle.
Remember, a job listing stays live at We Work Remotely for 30 days. This means that, if you're promoting one job opening for three months, you'll be using 3 job listings.
An easy way to know how many job listings you'll be using during a year, you can look into the job listings you used in the past 12 months.
3. Choose the upgrade you want.
You don't *need* to choose an upgrade, but we always encourage it so that your job listings get more views. These are the upgrades we have available: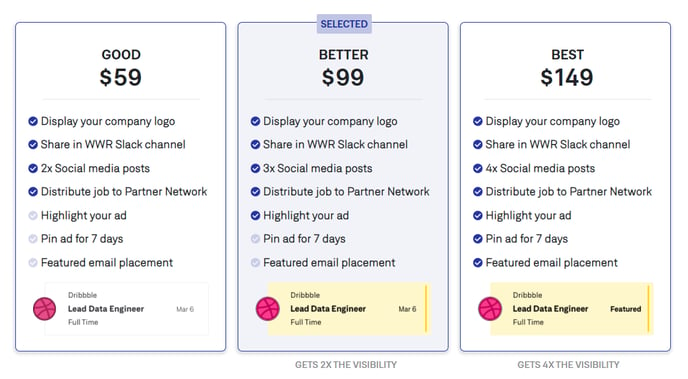 4. Add your details.
We'll send you the invoice and information there, so be sure to add the information you need.
5. Go to the checkout.
In the checkout, you'll see how much you'll be paying. Add your card details.
6. Get a unique coupon and mail.
You'll get a unique coupon to use your bundle and a confirmation mail.